Coming Soon: Saxenda® Prescription Weight Loss Medication
What is Saxenda® and how does it work?
Saxenda® is an injection which is taken every day that, when used with a low-calorie meal plan and increased physical activity, may help some adults with excess weight to lose weight and keep it off. Our bodies produce a hormone called GLP-1 which helps regulate blood sugar levels following any food we eat. Saxenda® works in a similar way to GLP-1. It also works by reducing the amount of Glucagon your body produces. Glucagon is a hormone which works by inhibiting the action of insulin. As a result, it makes you feel less hungry, slows down the emptying of your stomach and makes you feel 'fuller' for longer.

Saxenda®
®

is not for the treatment of type 2 diabetes. It is not known if Saxenda®

®

is safe and effective when taken with other prescription, over-the-counter, or herbal weight-loss products, so always consult your doctor before starting.
Where weight management has not succeeded using a calorie controlled diet and an increased level of physical activity, Saxenda® can be used as an adjunct to therapy.
Saxenda® is licensed for those individuals with a Body Mass Index (BMI) of:
>30kg/m

2

(obese)
>27kg/m2 but <30kg/m2 (overweight) – must be accompanied by at least one other risk factor such as unregulated blood glucose levels (pre-diabetes, Type II Diabetes), high blood pressure (hypertension), dyslipidaemia and obstructive sleep apnoea
Special Considerations and Patients Who Cannot Use Saxenda®
Elderly (>65 years old) – no dose adjustment is required for this age group however results can be limited in those over the age of 75
Renal Impairment – No dose adjustment is needed for those with mild to moderate renal impairment (CrCl >30ml/min).
For severe or end stage renal impairment (CrCl <30ml/min) Saxenda® is not recommended.
Hepatic Impairment – Although no dose adjustment is needed, Saxenda® should be used with caution in those with mild to moderate hepatic impairment. Use of Saxenda® is not recommended in those severe hepatic impairment.
There is no clinical data for use in children and therefore is not recommended for administration to a paediatric population.
Diabetics – concurrent use in diabetics already taking medication should be avoided due to the risk of hypoglycaemia.
Patients taking insulin or drugs which regulate insulin may need their doses adjusted if Liraglutide is administered at the same time.
Treatment with Saxenda® should be avoided if there are any known sensitivity reactions to Liraglutide or any of the excipients.
There has been little or no studies done in patients who are suffering from heart failure. Due to this lack of data it is therefore not recommended for use in this group of patients.
Saxenda® is not recommended if you suffer from severe gastro-intestinal issues such inflammatory bowel disease or gastroparesis.
A doctor should be consulted before starting treatment if you suffer from any form of a thyroid disorder, Are pregnant or breastfeeding
*If you have any of the above conditions it does not mean you cannot take Saxenda®, these conditions listed are only contra-indicated because testing on these patient groups has not yet been undertaken but please consult your doctor before starting Saxenda®.
How do you take Saxenda®?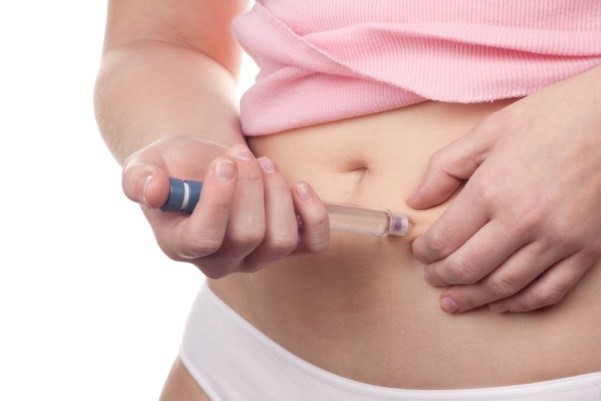 Saxenda® is a subcutaneous injection and should therefore be injected under the skin. The best sites for injection are the front of the waist (abdomen), the front of your thigh or the upper arm. Take extra care not to inject into a vein or muscle. When you take Saxenda®, you will start on a low dose and slowly increase this over the first five weeks. So for those starting Saxenda®, a pack of five pens should last 44 days. For those already on the full treatment dose, a pack of five pens should last 30 days.
The initial dose is 0.6mg daily and should be increased at intervals of 0.6mg as follows –
Week 5 onwards – maintenance dose of 3.0mg daily
Dosage is increased slowly to minimise any unwanted effects on the gastro-intestinal tract. If an increase to a higher dose cannot be tolerated following 2 continuous weeks, then consider discontinuing drug treatment. The maximum recommended daily dosage is 3.0mg.
Always use Saxenda® exactly how your prescriber has told you. Check with your doctor, pharmacist or nurse if you are unsure. Saxenda® can be used at any time of the day Saxenda® can be used in the presence or absence of food and drinks Saxenda® should be taken at the same time each day - you should pick a time that works best for you.
What are the Side Effects Associated with Saxenda®?
As with all medication Saxenda® can be associated with unwanted side effects. Although generally mild in nature some of these can be more severe which can result in the treatment being discontinued. When treatments is initially started, some individuals may result in a loss of bodily fluids. This can be a result of gastro disturbances such as vomiting or diarrhoea. It is important to ensure you drink plenty of fluids and keep yourself well hydrated whilst taking Saxenda®. Most mild side effects will settle once your body gets accustomed to the new medication. However, as always, if any side effects persists then treatment should be discontinued and your doctor should be consulted.
Side effects can include (but are not limited to):
Very common:
Nausea & vomiting (settles after your body adjusts to treatment)

Diarrhoea (settles after your body adjusts to treatment)


Common:
Low blood sugar (hypoglycaemia) – signs of this may include tremor, feeling weak & hungry, sweating, cold or cool skin, feeling sleepy, difficulty in concentrating, confusion, headache, anxiety, feeling nervous, faster heart rate.

Gastro-intestinal disturbances – Indigestion, reflux (GORD), inflammation, painful, swollen abdomen, excess wind, constipation.

Common cold sypmtoms – Tiredness (fatigue), Pyrexia (fever), dizziness.

Local reactions around the injection site – rash, itch, pain, bruising, swelling


Uncommon:
Thyroid reactions such as goiters, nodules.


Very rare:
*List compiled from data taken from www.medicines.org.uk – Please visit their website for a more complete and comprehensive list.  Medicines.org is a stand alone entity and is in no way associated with this site.